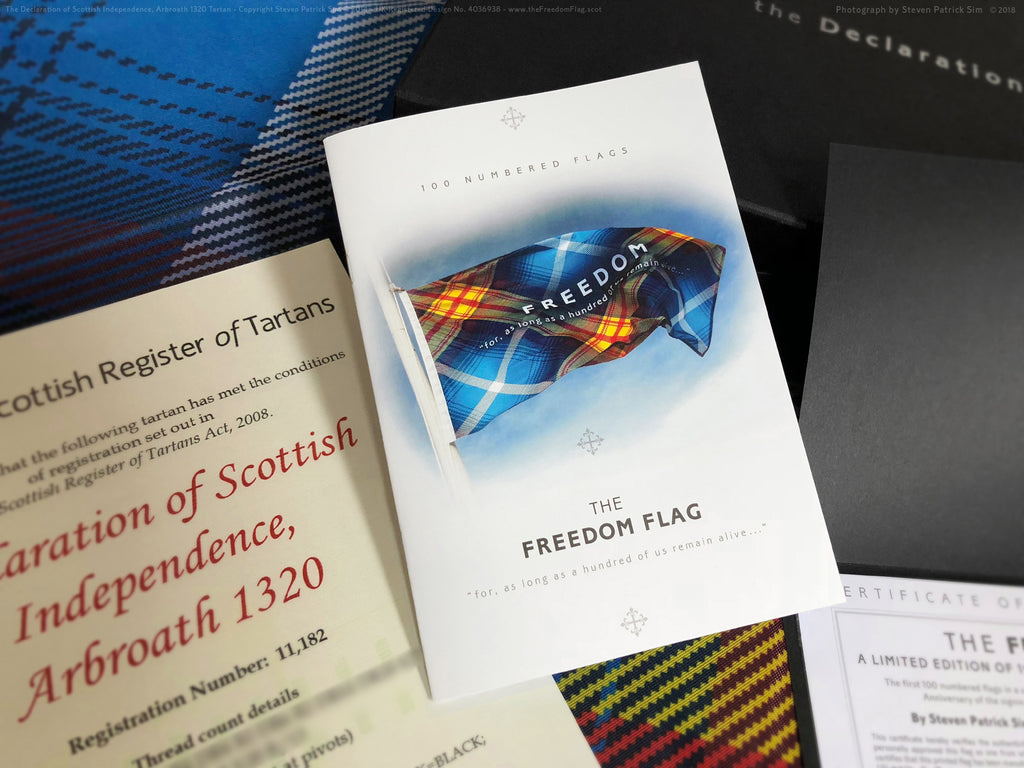 £100.00
£0.00
INDEPENDENCE
-
THE SECOND LTD EDITION OF 100 NUMBERED FLAGS (INDEPENDENCE EDITION) ...Strictly limited to 100 individually numbered flags (plus 4 artist proofs), and each flag is individually printed and hand sewn, in Glasgow Scotland.



SPECIAL 10% OFF DEAL FOR THE REMAINING FLAGS!
...use this DISCOUNT CODE to get 10% off all Indy flags ordered 
*HRAX5RAAXF6N*
...apply your code at checkout


Once all the flags are claimed no more will be produced in this edition.
This is the second 100 numbered flags in a series of 7 Freedom Flag Ltd Editions leading up to the 700th Anniversary of the signing of the Declaration of Arbroath on the 6th April 2020.
-
THE FREEDOM FLAG (INDEPENDENCE EDITION) IS DESIGNED IN ARBROATH... AND MANUFACTURED WITH PRIDE IN SCOTLAND, IN ASSOCIATION WITH RENOWNED FLAG MAKER JAMES STEVENSON (FLAGS) LTD, GLASGOW
-
The vibrant image is printed with exquisite clarity on knitted polyester with lightfast inks, and is water and weather resistant. A reversible design, the flag shows its face with the saltire displayed in Pantone 300, the official colour assigned to the Scottish flag in 2003. The reverse side of the flag shows the saltire displayed in a lighter blue ...closer in shade to the Ancient Saltire.
-
Finished with a double stitched hem, the Independence Flag is fitted with a canvas band and double brass eyelets to allow easy attachment to either tall standing …or hand held flag poles.
-
The flag is machine washable.
-
FLAG SIZE - standard dimensions of 5' x 3'
-
The flag package comes complete with:
1/ The second edition Freedom Flag - INDEPENDENCE EDITION.

2/ A 16 page booklet with the full transcript of the Declaration of Arbroath in Latin and English.

3/ A signed, numbered and embossed certificate.

4/ A copy of the official registration document from the Scottish Register of Tartans.

5/ The full rationale behind the Declaration of Scottish Independence tartan.

6/ The officially approved translation of the famous 'Freedom' quote on a printed card.

7/ A bonus A5 print card …with the empowering "What Do We Want…" call to action.

8/ Flag ironing guide - instructions out to keep your flag flying pristine.

9/ Care guide.
-
The flag is folded into a matte black presentation box, emblazoned with 'THE DECLARATION' in silver foil
-
-
Note: Please bear with me as I process outstanding orders, so there may be a number of days delay before shipment after your order is placed. Feel free to get in touch if you have any questions.